We mobilised our trusted volunteers on the ground to deliver vital food packages to people most in need during this Ramadan. The situation was further exacerbated by the COVID-19 pandemic and strict lockdown measures across Bangladesh, making earning a living or ability to purchase food or essential goods virtually impossible!
The 2nddistribution led by our trusted volunteer on the ground Mohammed Koyas Hosen, managing a team of volunteers. These volunteers travelled to the remote parts of Sunamgonj to over 20 villages.
We searched throughout Sunamgonj to seek out the neediest. We then identified the beneficiaries and set up a collection point. Unfortunately, the majority of the families were unable to collect the parcels from our collection point due to being elderly, disabled or the means to travel the distance in transport. We had to be imaginative so used tractors, cartwheels to deliver the food parcels to those people. This took up most of our time and the whole process took over a week but, alhamdulillah, with the grace of Allah, and your support, we are pleased to say we got the food to the really needy and vulnerable as intended.
BREAKDOWN:
Below is a breakdown of the food parcel distribution:

The distribution was throughout Sunamgonj district covering 20 villages and benefitting 223 families.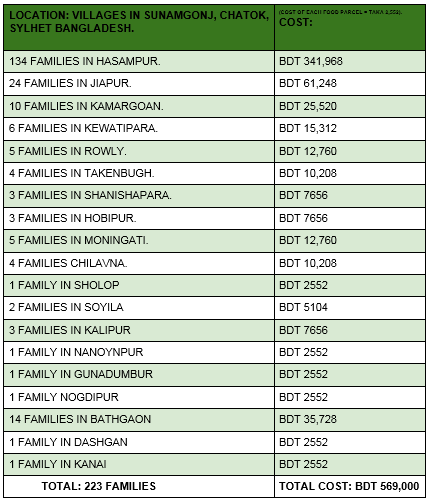 Total cost in GBP is £5,419 for the 223 familes. We continue to operate 100% donation policy so all costs for distribution etc, was met by the Al Ummah Foundation team.
As the table above shows that if you donated £30, you have actually benefiited more than one family. Total cost per parcel was TK 2552 which is approximately £25. Al Ummah Foundation were able to donate to 23 more families in this distribution from a planned 200 families by reducing costs.
Each Food Parcel Contained:
Rice: 15kg
Potatoes: 10kg
Onion: 8kg
Garlic: 1kg
Dates: 1.5kg
Lentils: 3kg
Salt: 2kg
Flour: 1kg
Sugar: 1kg
Milk: 1kg
Chickpeas: 2kg
Oil: 5 litres
Soap: 2 pieces
Paracetamol: 20 pieces
Vitamin C: 20 pieces














Location: Sunamgonj
Feed the Fasting & Covid19 Support 2020 – 2nd distribution